Stay Home, Stay Safe. Stay Home, Stay Safe. Stay Home, Stay Safe. Stay Home, Stay Safe. Stay Home, Stay Safe. Stay Home, Stay Safe.
A message from home...
20.04.2020
A Letter from Mrs Gray
Hi everyone,
I'm sitting at my desk in school thinking how strange it is that I can't hear the noise of any of you playing outside, or singing in assembly, or lining up for lunch and there are no children in classrooms to visit or children coming to show me their good work – or even coming to tell me they haven't done the right thing; and it makes me sad that we can't all be together in school like it should be. I am missing you all and hope that you are doing Ok and trying your very best to make the most of your time away from school. I know it is really difficult not being able to play with your friends and go to the park or ride your bikes etc but we need all of you to stay safe and keep healthy at home and not going out. I know many of you keep in touch with each other via social media and that is great, so long as you remember to be kind and not be mean to or about anyone!
You need to try very hard to help your parents/carers by being good and doing as you are asked, and not complain too much if there are times when you feel bored – if you do feel bored try and do something to keep your mind active – reading is always a good one – it doesn't have to be a huge thick book; you could even be super motivated and do some school work – learning your times tables would be absolutely superb and a HUGE help for when you eventually come back to school.
The teachers have put some work on the website for you to have a go at whilst you are off school and there are two new websites to try that Mrs Holt is going to be putting on today. I believe Joe Wicks workouts are really good too. We have had a go in school with the few children we have in, although there have been some moaning about their legs aching afterwards – do you reckon they could maybe be a bit unfit? The teachers are all missing you and have been keeping in touch with each other via email, but we have not seen each other all together since school closed. I have heard from Miss Sparkes and it would appear that she may be having a baby who is destined to be a footballer, as she tells me baby has been doing a lot of kicking! A Manchester City player of the future maybe? Gary is now feeling better and has come back to work, and that has cheered us up too. We are due to welcome back Mrs Gaskell as well just before the end of term – if we are open! That would be lovely.
Whilst I have not been in school I have had work to do on the computer and I have done lots of sorting out of my things at home, but one thing that is driving me mad is that my hair is now far too long and in desperate need of being cut – I can't see myself with a bow in my hair but it may get to that – in which case I will have to hide away! I am missing my brothers and sister and my great nephew (and nephew) as we usually see each other regularly, but we are keeping in touch via Facetime and texts and telephone calls. I have also had lots of time to keep in touch with Sophie who is still in Australia where she was working on a crocodile farm, but has been furloughed until tourism is allowed again. She has been teaching me all about crocodiles and it is fascinating. She has had to help the babies hatch and weigh and measure them and feed them, as well as feeding the big ones. One job I was not happy about her doing was having to go into the enclosures to get the eggs out of the nests while someone distracted the mother crocodile who likes to protect the nest!! They are HUGE!! She was also a tour guide in the afternoon for visiting tourists. You can find the place on the internet they do live videos each day whilst they are closed to the public – have a look –some of the crocs are massive. Just remember though that they are 9 hours ahead of us timewise so 9 am here is 6pm in Yeppoon and 10pm here is 7am the next day there. It's weird because sometimes I'm speaking to her and she's already in the next day!!!
If you're interested in finding out about crocodiles search for:
'Koorana Crocodile Farm' on Google and Facebook
The little hatchling below had just been born with a wonky jaw but Sophie reckons he will be OK.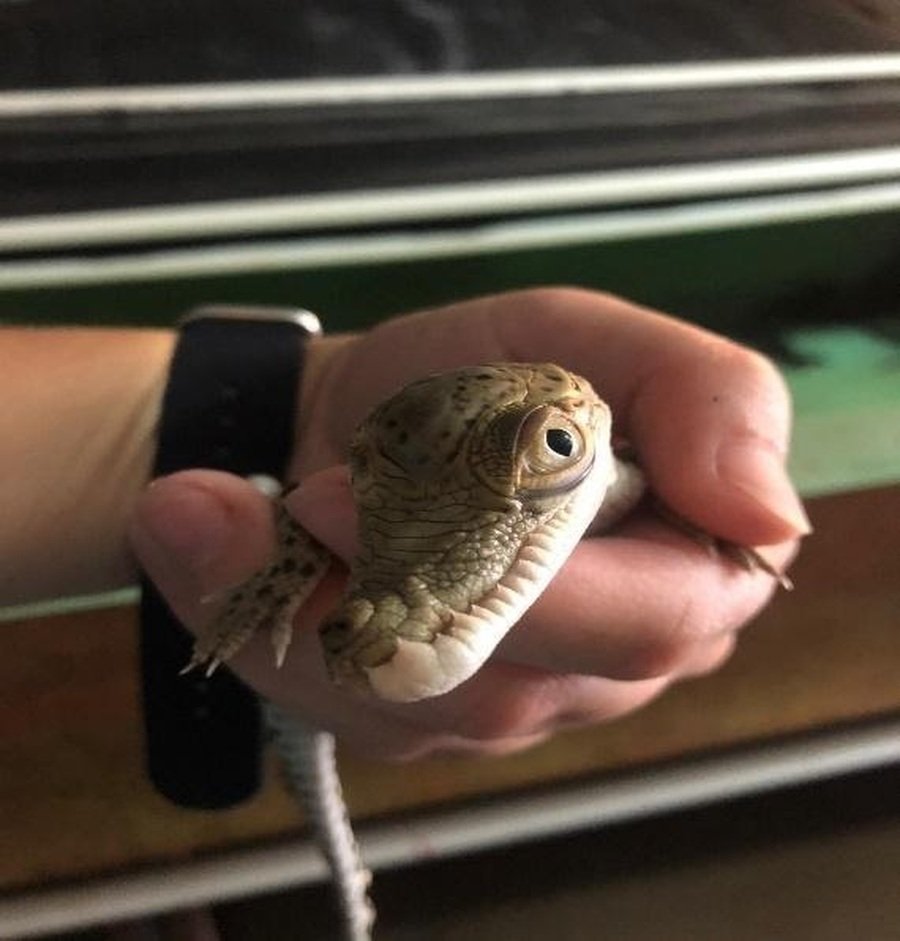 I have also been catching up watching all the TV series I have heard about and not had time to watch, but I am missing my fix of football, even with City TV+. My dog is enjoying having everyone at home and I have been playing with him and trying hard to get him to do as he is told. He will sit and lie down and he comes when I call him – if there's no-one around with food – that seems to send him totally deaf!!! So as you can see I am following the rules and trying to keep myself and everyone else safe, and I hope that you are all doing the same.
If you do any rainbow art and your parents don't mind it going on the school website feel free to email me a photo of you with your art and I'll see if we can get it put on our Coronavirus page! Any other activities you have been doing could be sent too – but make sure you have your parent's permission – send it from their email address!
Send it to: headteacher@st-thomas.stockport.sch.uk
Please, please stay home and stay safe, and I hope to see you all again before the Summer holidays.
Best wishes to you all,
Mrs Gray
Here are some of our rainbow pictures we have made at home with our families. Can you guess who has made each rainbow?
Thank you to those who have sent Mrs Gray their rainbows for us to share with you!
Stories with Marie
PewTube is the Stockport Parish YouTube Channel where you can find news, stories, services and praise. They will be putting on a new pre-school/EYFS suitable story every Sunday for the children of St. Thomas' from Marie.