Year 2
A Letter from Miss Sparkes
Letter 9 - 01.07.2020
Letter number 9. I hope you are all healthy and happy, it feels like such a long time now since we were all in class together. I have been home now for 15 weeks! Hopefully some of you have managed to spend a little time together or are using phones, computers or ipads to keep in touch. This will be my last letter of the year as this Friday will be my last day before I start Maternity Leave.
My week
Last week involved a lot of ice in drinks, ice lollies and sun cream, which seems a little strange now that it is so windy and rainy. We have had such a mix of weather during the last month, haven't we? I bet lots of you were outside enjoying the sun or in paddling pools. I used to love getting out the slippy mat, sprinkler and paddling pool in the garden when I was little. My sister and I could spend hours playing out; we used to use tons of fairy liquid to make the mat extra slippy, although you would get the odd grass burn if you went off the end of the mat. That could be very painful! It was nice to have a few days of sunshine again. I managed to work outside in the garden which was lovely.
On Wednesday my cousins came round to sit in the garden and catch up. They also dropped off some beautiful presents for the baby. The nursery drawers and shelves are really filling up now!
On Thursday I had another Midwife appointment. I was pleased to hear that the baby seems perfectly healthy still. It has even started to move a little lower, so it's getting ready for its arrival, although it could still be another few weeks yet. I am now 37 weeks pregnant which means it could be around the size of a water melon! This is a photo taken yesterday at exactly 37 weeks.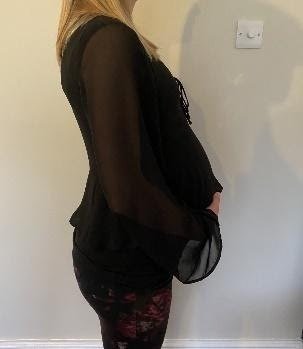 This weekend some friends I met at University (where I trained to be a Teacher) came over. I hadn't seen them since the start of March so there was a lot of catching up to do. It has been great to spend time in groups again, although because of the weather we have to sit underneath the carport at my house so we didn't get soaked. It felt a little bit like camping.
The school website
If you check the school website there will be three more activities for you to do, however, this does not mean they are the only pieces of work you can complete this week. You could: write a diary entry about your week, practise your spellings and handwriting or create your own story. To help with your Maths you might: practise telling the time, do some adding and subtracting using money or see how many 2D and 3D shapes you can remember.
Don't forget to read each day, even if it's just a couple of pages or some articles on Newsround.
Answers to the riddles of the week – well done if you worked any of the answers out.
A man who was outside in the rain without an umbrella or hat didn't get a single hair on his head wet. Why?

He's bald

The more of this there is, the less you see. What is it?

Darkness

What has many keys but can't open a single lock?

A piano

What can you hold in your left hand but not in your right?

Your right elbow

What goes up and down but doesn't move?

A staircase
I cannot wait to visit you all when you are in Year 3, hopefully I'll be able to bring a little visitor with me! I am sorry that we didn't get to spend all of Year 2 together and that I didn't get to say goodbye, but the most important part of this whole process is to keep yourselves and your family members safe.
Keep smiling,
Miss Sparkes
| Name | |
| --- | --- |
| WB 11.5.20 - English, Maths and Science tasks.docx | Download |
| WB 15.6.20 - English, Maths and Science tasks.docx | Download |
| WB 18.5.20 - English, Maths and Science tasks.docx | Download |
| WB 22.6.20 - English, Maths and Science tasks.docx | Download |
| WB 29.6.20 - English, Maths and Science tasks.docx | Download |
| WB 4_5_20 - English, Maths and Science tasks.docx | Download |
| WB 8.6.20 English Maths Science.docx | Download |
Showing 1-7 of 7
Additional Home Learning
Websites and Apps
| Name | |
| --- | --- |
| Character book review.docx | Download |
| Common-Exception-Words-Years-1-and-2-Word-Mat.pdf | Download |
| Contractions spelling activity.docx | Download |
| Garden-Birds-Sighting-Checklist.pdf | Download |
| George's map.docx | Download |
| KS1 Addition Word Problem Challenge Cards.pdf | Download |
| KS1 Puzzles and Problems.pdf | Download |
| KS1 spellings.docx | Download |
| KS1 times table challenge - Maths.docx | Download |
| Mixed Maths Questions Quiz.docx | Download |