School Houses
St.Thomas' School Houses
At St Thomas', all the children and staff are randomly put into a school house, keeping all our siblings in the same house as each other.
Most are named after young famous influential people who have made a difference. We have decided on a variety of people who may have different gender, ethnicity, disability or sexuality.
Our houses and Year 6 house captains are -
Storey - Christina
Peake - Lucas
Thunberg - Frankie
Rashford - Noah
Malala - Lyla
Daley - Freya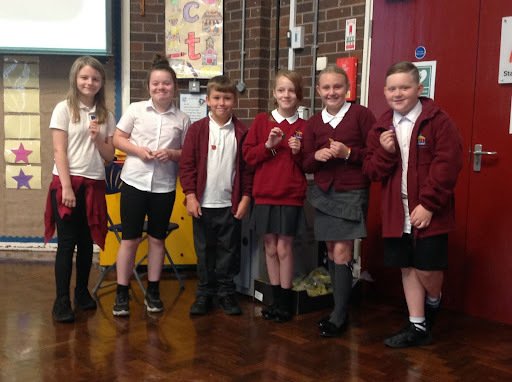 Here is some interesting information about our young famous influential people -
Dame Sarah Storey - is a British Paralympic athlete in cycling and swimming, and a multiple gold medalist in the Paralympic Games, and six times British (able-bodied) national track champion (2 × Pursuit, 1 × Points, 3 × Team Pursuit). Her total of 28 Paralympic medals including 17 gold medals makes her the most successful (by gold medals) and most decorated (by total medals) British Paralympian of all time as well as one of the most decorated Paralympic athletes of all time. She has the unique distinction of winning five gold medals in Paralympics before turning 19.
Major Tim Peake - He is the first British ESA astronaut, the second astronaut to bear a flag of the United Kingdom patch, the sixth person born in the United Kingdom to go on board the International Space Station and the seventh UK-born person in space.
Greta Thunberg - Swedish environmental activist who is known for challenging world leaders to take immediate action for climate change mitigation. Thunberg initially gained notice for her youth and her straightforward speaking manner, both in public and to political leaders and assemblies, in which she criticises world leaders for their failure to take what she considers sufficient action to address the climate crisis.
Marcus Rashford - English professional footballer and Campaigner. He plays as a forward for Premier League club Manchester United and the England national team. He is a campaigner against racism, homelessness and child hunger in the United Kingdom. Rashford has been praised for using his platform to be a political activist.
Malala Yousafzai - She is the world's youngest Nobel Prize laureate, and second Pakistani. She is known for human rights advocacy, especially the education of women and children in her native Swat Valley in Khyber Pakhtunkhwa, northwest Pakistan, where the Tehrik-i-Taliban Pakistan had at times banned girls from attending school. Her advocacy has grown into an international movement, and according to former Pakistani Prime Minister Shahid Khaqan Abbasi, she has become the country's "most prominent citizen".
Tom Daley - British diver. Specialising in multiple events, he is an Olympic gold medallist in the men's synchronized 10-metre platform event at the 2020 Olympics and double world champion in the FINA 10-metre platform event, winning in 2009 at the age of fifteen, and again in 2017. He is an Olympic bronze medallist in the 2012 platform event, the 2016 synchronized event, and the 2020 platform event, making him the first British diver to win four Olympic medals.